Really, how low can you wear that before you stop and think, "you know what? Maybe I don't need em' pants"
I would love to unleash my canines on him. Run b*tch run!
Aye, Yo, Dawg!
Fashion is getting crazier these days. I mean with majority of Chinese population [come on admit it, we have more weird dressing people than any other race *cough* LALAs *cough*] in Malaysia mixing their style of J-pop with 70's picnic table cloth fashion its no wonder everything is getting out of hand.
Seriously, does that end result work for you? LOOK AT THOSE COLOUR MISMATCH! I really think the chick on the far right fell down recently, knocked her head and screwed up her fashionoblongata so bad.
Anyways, enough firing for today. This is not a racist post. If you are at your seat now making a big fuss over this, shut the f*ck up and grow up.
To the other "type" of people out there [you know what race you hail from], stop wearing tight jeans and being emo. Even if you tell me that you are not an "emo" i would tell you to stop shitting yourself. You listen to emo song, spotted an emo haircut on your head and wear emo looking clothes and you don't call yourself emo? Guys, go google up what happens to your sperm from wearing tight jeans.
Peek a Boo, I see You
No she is not smiling cause she is liking it. She is smiling cause she finds you disgusting. Look at that, that's not natural at all! Like I've said GOOGLE what happens to guys like this.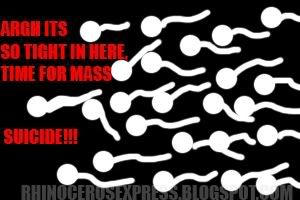 On a last note, back to the guy on top with really low cut jeans. I only have one word of advice for you buddy, leave it to the professionals to wear 'em low. When I say professionals i meant :-
umpfff umpfff coming thru!
Give your thoughts on this in the comments section, and leave a question for me to answer too, about ANYTHING. I'll try my best to make an article based on the best question. Thanks for tuning in. *POOF*